Psoriasis Healing Topicals I use daily: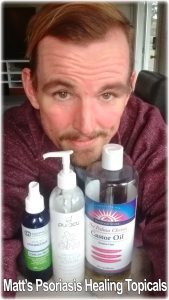 Castor Oil and Psoriasis (apply to plaques and can also wrap to soften) – [https://amzn.to/2D8Tst6]
Organic Lotion (the best ive ever found, love the ingredients) – [amzn.to/2VOPJb5]
For my scalp, I use Puracy citrus mint shampoo and conditioner [https://amzn.to/2VKLmQg]
For body I use a Seaweed based body wash I like to use in my bath water and in shower – [amzn.to/2QlMhp6]. I also use Puracy Coconut Vanilla body wash [https://amzn.to/2yumrs6].
Borax powder for my bath water
Coconut oil (unrefined, cold pressed, extra virgin ) for my bath water
Essential oils, I alternate these two blends

BFB-1 [amzn.to/2AFbAfu]
BFB-2 [amzn.to/2NFJBBw]
Lavender
Thieves Blend
Lemongrass
Orange peel
Any others you find soothing.
My Topical Scalp Psoriasis and Body Approach:
Castor oil psoriasis wrap treatment – apply a generous amount of castor oil, then apply some to a cotton flannel rag or shirt, apply that (optional), then wrap in BPA-free plastic wrap and put on clothes, socks, leave for a couple hours the first two weeks, then go up to a few hours.
For castor oil and scalp psoriasis, you can use a shower cap. Wet the hair with warm water then pat dry. Apply castor oil to your finger tips and rub throughout the lesions on the scalp good. Put on a shower cap and a headband to keep it on. Leave on for a few hours or overnight. Then on to the bath, or shower, to gently remove the softened plaques of dead skin and wash your scalp following my steps above. It will feel AMAZING!
Remove the wraps and run a Bath with coconut oil, borax powder (you can also use a quality epsom salts, himalayan pink salts and/or dead sea salts), an essential oil blend you like and some body wash, soak for at least 20-30 minutes and gently remove the caked dead skin with rag, deep rhythm breathing, put on some music or a podcast and study your plan.
After your bath, do a warmish-cool shower, add a quarter-sized amount of shampoo, rub into palms well, then apply to the scalpline and rub the shampoo out through the hair. Work it into the scalp well, and let sit for 1-3 minutes as you wash your body, rinse out well and pat dry.
Apply the organic lotion and rub in well. You can apply as many times as you like throughout the day. I keep a bottle at home and in the office.
Add another coating of lotion as start to dry out during the day, this lotion also cleans the cracks, you can dab on more castor oil to the lesions themselves to.
A drop of essential oils can be rubbed into the bottom of the big toes, thumbs, inner wrists and lower earlobes as well. I then take a few deep breathes into my hands for aromatherapy. Start VERY small with this and work your way up. Start with just your thumbs and fingertips, then to the toes, and then ears.
Staying in front of the dead skin brings immense relief, especially on the scalp, ears, feet and hands.
Repeat this process as often as needed to get in front of the skin schedule while you follow my guide to heal from the inside-out, add in the Liquid Regimen to your diet you do now.
You can also get a diffuser for your home, add a few drops of essential oils, fill with filtered water and breathe in healing whenever you are home! Every time I walk by my diffuser I stop and take in some deep breathes. It's nice. I just got this one for the house – [amzn.to/33P7Emx]