QUICK SKIN UPDATE! -> I hope this message finds you well and healing. I am continuing my healing journey daily. Another cycle of breakouts have come out that are healing up. Particularly on my chest and abdomen, it starts right around my Liver, spreads out from there quickly, then the entire area begins to lighten up and heal. I will have a full update video of my experience soon!
---
Coronavirus & Psoriasis: My Focus on Viruses
Click play ▶️ below to watch my video discussion
If you have taken the deep dive into my journey and content, you know everything I do myself and suggest to you is based on helping the body strengthen and eliminate resilient pathogens (viruses and bacteria) that I believe are at the root of mystery chronic conditions like psoriasis.
I KNOW, in my case, I am fighting off nasty viruses, and strep bacteria that are deep in an old root canal (that I had removed in 2015), and an ACL Reconstruction surgery in my left knee (when psoriasis first began on my scalp just after).
The efforts I make to heal from the causes of psoriasis, also keep my immune system and gut bacteria strong and knowledgeable against incoming invaders trying to take root.
Many of the foods I eat and suggest on my PHW spreadsheet are anti-viral, anti-bacterial, and anti-fungal in varying amounts based on the nutrients they contain. Most all of the supplements and herbals I take periodically are strong against pathogens and parasites (bad viruses, bad bacteria, fungal overgrowths, etc). No virus is immune to nature's medicines in the forms of ancient foods & herbs which are known, absorbed and utilized by the body.
This is only going to benefit you and those close to you in combating the spread and severity of COVID-19 "Coronavirus" or any pandemic that comes our way beyond this.
Our Immune System only attempts to help us, it's on our side. Our bodies are on our side. When you make the body strong, Really strong, you see what it is capable of and how nasty pathogens can be, how hard they fight back.
This is why symptoms get worse before they get better for many Warriors. There can be many of these Healing Crisis cycles. I've been through dozens over the past seven years.
As a People, we need to keep getting healthier. Here, in PHW, that is our Warcry! We are utilizing what is available to us, what we can afford, and we are finding our unique vibration and staying in that sweetspot.
Pathogenic Disease Experts seem to share a consensus viewpoint on nutritional heath being an antidote against the viral infection. The healthier you are; diet, sleep, movement, community and mental training, the better off you are to annihilate coronavirus and any other viral infection.
Following your own natural healing practice at home that YOU DEVELOP results in a body with a healthier gut microbiota (bacteria), balanced immune system and results in improved vitality and longevity.
A massive benefit of working on healing from psoriasis naturally, is you are building a body that can better withstand outbreaks of infectious diseases of all kinds.
You are tapping into hundreds of thousands of years of your evolutionary biology. You are tapping into the deeply rooted, misunderstood functions of your Liver and Immune System. This is how we stay strong in a world that contains many diseases. The Immune System and Digestive System exchange information with trillions of viruses and bacteria constantly to keep us protected and balanced in any one environment.
This is the Warrior's Way.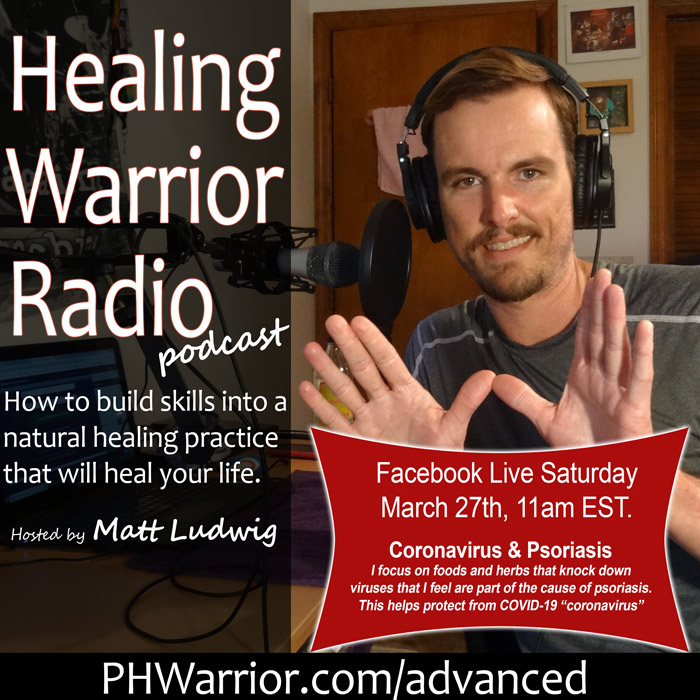 I know stores and foods can be scarce right now. So do whatever you can  to feed and care for yourself and your family. I send goodwill that we all will take care of each other out there, not take too much of any one item, leave some for everyone. We will make it through this time together and come out stronger when we are working on constructing proper mental perceptions to view any crisis we face in life.
I'm using this extra time at home to consider my self-realization path even deeper. My skin is improving, I can tell and my life is so much better than it ever was before I started my journey. If you are feeling down, just know you can climb up. You can do this, one step at a time. Stay Strong.
---
The following are some foods and herbal teas that are particularly strong against viruses due to their high content of anti-oxidants, vitamin C and other nutrients the body uses to build Glutathione which facilitates cell elimination. So, here we go!
Top 10 Foods to eat to fend off viruses:
Apples (organic if you can, wash well, red of all kinds, green good too)
Watermelon, or cantaloupe – bring in high amounts of vitamin C
Wild blueberries tier 1, then blackberries, raspberries tier 2
Coconut (shredded on salads and trailmixes, raw water, flesh, oil, milk)
Leafy greens – make a small salad before dinner
Garlic and Onion – chop them up and use together in dips and cooking
Sweet Potatoes
Atlantic dulse (seaweed – https://amzn.to/2LlYOGp) – sprinkle on all foods, add to smoothies
Bananas
Lemons or Limes – squirt in water, add the white flesh to smoothies, great source of bioavailable vitamin C
Top 10 Herbs (5 foods, 5 teas):
Italian aromatic herbs (rosemary, thyme, oregano, basil, sage) – add the dried seasoning mix to all foods
turmeric
cilantro (coriander)
cayenne
ginger (in food or as a tea)
Nettle leaf tea
Lemon balm tea
Rose hips tea
Burdock root tea
Dandelion root tea
Top 3 Supplements:
Zinc – liquid zinc sulfate (https://amzn.to/2LPqFQU)
Magnesium – chloride or glycinate (https://amzn.to/2LZ6Kyh)
Cat's Claw – tincture under the tongue (https://amzn.to/3cKE6eM)
Here's a link to my full healing Spreadsheet –>> bit.ly/phwfoods
---
To download my podcasts, watch my youtube videos and follow my instagram click this link –>> https://PHWarrior.com
Search "Healing Warrior Radio" on iTunes, Spotify, or Google and follow my podcast show. I have 3 episodes ready for you to listen to now and will have more published THIS MONTH!
Connect with me on your journey. You are NOT alone. We are walking this path together.
Breathe in deeply, do my Qigong movements (bit.ly/phwmove), center yourself with a good stretch and do not let anger and fear win.
I believe pathogens and poisons are right at the root cause of psoriasis. The specific brew of strains and toxins each of us deal with makes the psoriasis symptoms unique to each person.
Much Love, Mad Respect, More Healing.
Matt ~fellow PHWarrior