In honor of Psoriasis Awareness Month 2022 and to all of those Warriors out there working hard to heal, I am proud to announce Psoriasis HEALING Awareness LIFE, month in, month out.
I have learned over TEN years of my Psoriasis Healing Warrior Journey that mental health is just as important as diet and physical health. Watch my video and read my whole letter to you below.
I want to share my ARA Triangle of Triumph. Awareness at the pinnacle, Responsibility and Accountability at the cornerstones. This came to mind a few years back as I wrote in my journal to help reduce negative mental feedback loops and thoughts around this awful affliction known as psoriasis.  This triangle has become the foundation of my psoriasis healing practice.
I keep my focus inside this Triangle. I practice equanimity. This means I focus my efforts and thoughts on what I can control and reduce thoughts about things outside of my control. What I can control is inside of the triangle which is where my focus lies. I practice to mute thoughts around what is outside of my triangle. This improves clarity, peace, concentration and attention which expand Awareness.
"Triangles are my favorite shapes. Three points where two lines, meet." ~alt-J
The Three Points of my Triangle of Triumph
1.) Awareness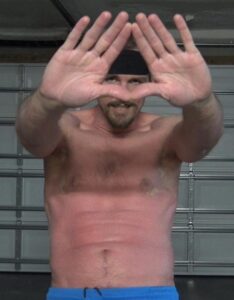 At the pinnacle is Awareness. The tide that raises all ships. An expansion of consciousness and power. A sovereign life. A quest for freedom from anxiety, fear and guilt. My C.U.R.E. to the human mind and emotional condition. These all lie within one's Awareness. It you are asleep, you cannot take action. It is only as you begin to wake up, that you see your true Self. You see the Warrior in You.
You are now on the Way of the Warrior. The path towards action, observance, growth and lasting results.
We increase awareness through exploration, contemplation, empathy, humility, compassion for Self, then the World outside. It is the Eye of the Triangle, the Mind's Eye. Perception and then perspective is built from this. Only as Awareness is improved, expanded and increased, can responsibility be taken. There is no 'blame game' here. There is no 'waiting game' here. This is NOT a task you outsource to your doctor or other health professional and they fix you quickly. This is the path less taken and most long.
This is YOUR work and MY work. It is a unique map that you are charting here. There is no cookie-cutter template that you can connect your life's dots to. What I can tell you is that, this is the most important work of your life and you better get to it, NOW. Your Healing Work. Your catharsis. Your salvation.
Awareness rises through thoughtful questions, ponderance, meditation, walks in nature, 'alone time', studying and reflection. Now, you are ready to bring on true Responsibility which is one of the cornerstones of my ARA Triangle.
The key to your approach is HOW you go about it. You carry this out while striving for my C.U.R.E. – Compassionate contemplation, Unifying the multitude of competing thoughts in the mind, Reflecting on your personal benchmarks only to chart progress. Progress is measured in the power you are building, the skills you are sharpening, the discipline you are practicing, and the life you are changing. Finally and most importantly, Endurance for the many trials, tribulations and Triumphs to come. Commit to your body, your health, your vitality. Do it for the sake of your mind, heart and soul. Do it with love.
2.) Responsibility
This is when the rubber hits the road, when you get your butt in gear and trip into the tasks needed to change Life from one of sick and weak, to strong and well. Responsibility is chiseled out of a daily routine. A practice that you carry out with steps you compile from your research, community and creative spark.
You chisel away at the concrete rock of old bad habits like Andy Dufrane did at Shawshank Prison. As you plot your escape from psoriasis, know that there is years of work to be done. You must commit to the work and that is your Responsibility. The results are nuanced, barely observable, which is why increasing Awareness is the foundation of responsibility improving.
There is SO much distraction now stealing our attention and concentration from us. It is digital and accepted. This puts a high value on your attention and what you 'pay' it to. It is called 'paying' attention for a reason, there is a cost and a benefit. Sometimes a cost and no benefit. Sometimes a dear cost that we cannot even pay, but we do anyway to our detriment. You can slip into attention debt and give yourself no credit.
As you build a refined practice, improving skills, that you can carry out with less and less self-generated excuses, responsibility facilitates a powerful life. Now you are not just walking the path. Somedays you run, sprint, swim, climb and hurdle on the Path! Some days you faint, keel over and want to die. But, you get up, and you keep walking as you build momentum towards the next Sprint! This is responsibility. Now you are ready to account for your successes and failures.
3.) Accountability
As you learn to crawl, walk, run and hurdle, measurement is needed. An account needs to be created. Who else is going to chart your progress, other than you? What else will stand up in the face of great scrutiny and doubt, coming from inside and outside? A written account will stand up and keep you moving on your healing path with excellent and methodical pace. Not too fast, not too slow, not too stressful, not damaging you, only empowering you to keep going, don't stop.
This is the means to the end. I stay connected with my efforts, because a routine is nothing more than a repetition of these efforts. As I build more awareness and responsibility to my healing practice, I have more to document, chart and analyze. My account of healing my psoriasis naturally is why all of these MILLIONS of words I have recorded and written are available to you. It's why we are connected. It's why the world can change so quickly now, because our connection is real and in real-time.
The more accountable you become, the more habitual systems you create and keep in your journal, the easier life gets. The less doubt and guilt you feel, and fear loses it's grip on you. Psoriasis loses it's grip on you. "Autoimmune disease" loses it's grip on you.
You are Powerful.
This triangle is small at first and a moving target. As you improve it will become bigger and steadier. You will become bigger and steadier.
You are becoming the shepherd of your attention and concentration. Focus on what is inside of your control more and more. Reduce thoughts about the things outside of your control more and more. This practice of Equanimity provides mental clarity and freedom. I will write another post about my 3 C's of Attention. Stay tuned for that.
For now, master my Triangle of Triumph. For the honor of Psoriasis Awareness Month 2022. Do this for those that cannot do it for themselves yet. Those that are still completely asleep to the fact that they CAN heal. Your determination is the alarm that will wake more Warriors Up!
We are breaking free from chronic dis-ease! The Warcry is "POWER! SOVEREIGNTY! HEALING! VITALITY! COMMUNITY!". Yell that out loud to yourself. You have what it takes to begin healing. Build your personal Triangle of Triumph. Commit to your health and you can heal from psoriasis.
We CAN heal. We WILL heal. Hope is ACTION!
Do you need help building your psoriasis healing practice and awareness? Check out my private 1on1 coaching here and we can do this together.
Get my free psoriasis healing guide and emails here to build your psoriasis healing practice at home.
Much Love, Mad Respect, More Healing.
~Matt
fellow Psoriasis Healing Warrior