6 steps in 60 minutes achieve 60% of my Natural Healing Practice
Hello PHWarrior! How are you? Are you working on your Natural Healing Practice (NHP) a little more each day? Building skills, resolve, conviction, and discipline, slowly but surely?
This is a journey. Getting Psoriasis out of our lives is a large leap into the Unknown. It has certainly been the most formidable challenge in my life, and I am better for it! I am walking this path hand-in-hand with you and thousands of other Warriors who are taking ACTION!
The skills and practice I have at my foundation now, all came from a choice I made to stick with this for better or worse. I remember thinking before my journey, "If I could just get my life back." which has now transformed into:
"I have built a new life!"
---
I want to keep things simple, yet powerful for you. I know we are pressed for time, especially in the morning, so I compiled these six steps from my NHP to help you build your own and get the best outcome for the efforts you put in.
Your morning is the most important part of the day for your Natural Healing Practice (NHP). You build momentum and set your body up for optimal progress and results.
The body does a lot of hard work while you sleep, and there is a lot of waste to remove upon getting up. These steps will help the body eliminate that waste completely and prepare to continue the healing process while you carry out your day.
I strive to complete all 6 steps each morning. Some days I don't get them all in. If I juice 5 out of 7 days each week, that is a victory in my book! We are not trying to be perfect, we are simply doing our best.
Here is a rundown of my morning routine. These 6 steps take about 60 minutes and accomplish 60% of my natural healing goal each day!
My 6-step morning magic formula that will heal Psoriasis fast & for Good: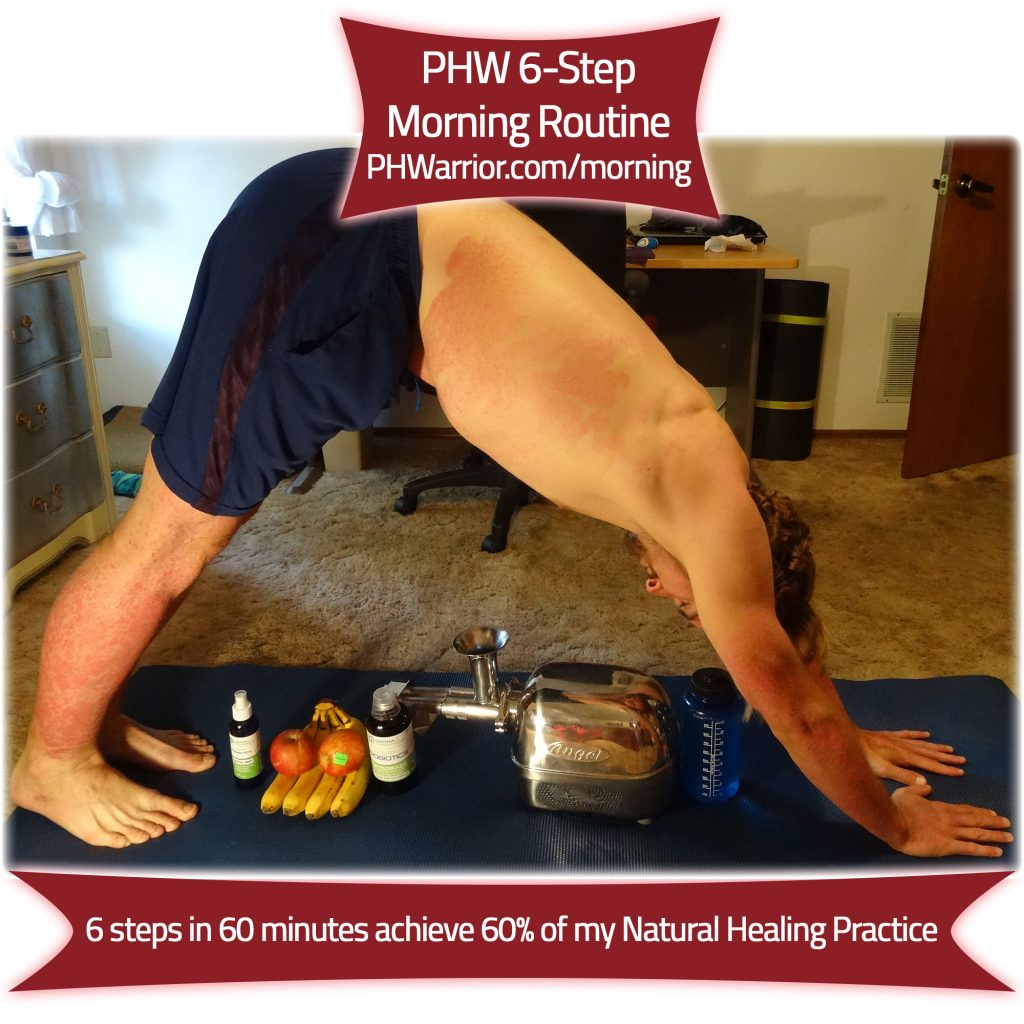 ---
1.) When I get up in the morning, I drink one liter (quart) of pure water with one whole lemon or lime squeezed in. I drink this down in about 10-15 minutes while I get the celery washed for juicing (step 2) and heat the kettle to steep my herbal tea (step 5).
This is a cleansing flush for the Liver and Kidneys. The water pressure along with the vitamin C and trace minerals the lemon provides, flush out the liver and activate the kidneys for filtration.
"Water keeps the vehicle moving."
 2.) I rinse, juice and drink 16 fluid ounces of fresh organic celery about 15-20 minutes after I finish my lemon water. I also add organic cilantro and organic parsley sometimes, to help eliminate heavy toxins from the body. Celery is the core ingredient which acts as a tonic to heal and repair the stomach. It needs to be juiced fresh and drink on an empty stomach. You can add one apple or a handful of grapes to change the flavor if you need to, until your palette adjusts. However you can bring celery juice into your life, BRING IT!
I clean the juicer as I'm drinking the juice and by the time I'm done drinking, the juicer is clean. I strive to juice 5 out of 7 days in a given week. In 2019, I am challenging myself to juice celery EVERY morning. I've only missed 5 days so far this year, it's April 24th!
"I look at juicing as preparing my morning medicine."
3.) I do 15 minutes of Yoga and/or Qigong exercises. I focus on technique, deep breathing and affirmations. I will share the Yoga poses and stretches I do soon, stay tuned! For now follow the Qigong exercises in the video above!
This gives the body exercise, oxygen and pumps the lymphatic system to eliminate waste. During this time the stomach is also working on repairing itself using the celery juice tonic.
"The lymph system relies on our movement to pump out waste."
4.) I take my liquid plant and soil based probiotics. I take 1 fluid ounce (30ml). My plan is once my skin is fully clear, which will be very soon, I'll go back down to 1/2 fluid ounce (15ml) daily maintenance dose. They have worked wonderfully for me and many others. There are over 100 testimonials at the bottom of the page you can read to see others' experiences and results, which are incredible!
These specific probiotics for psoriasis relief are important to help restore a thriving resident gut bacteria, heal leaky gut syndrome, regulate immune function and clear your skin. I did not havea focus on my gut bacteria the first two years of my NHP and it is the #1 reason why I relapsed so badly after clearing my skin the first time. The #2 reason was that I deprived myself of fruit during phase one. Once adding these two to my practice, I began to deeply and fully heal. It has been a roller coaster ride, for sure.
"You can learn from my mistakes and avoid these setbacks."
If you eat from your own garden or have already found comparable liquid, living plant and soil based probiotics that 'arrive alive' and are working for you, fantastic! By all means continue with those. This may be a bit unique to each individual Warrior. I have found these ones I use are working well for hundreds of other Warriors I help too.
5.) I drink two scoops of Wild Greens powder stirred in a cup of water. I use a blend of greens from Supreme Nutrition. It is an excellent prebiotic for my gut bacteria and the plant and soil probiotics I take. Prebiotics are certain fibers that bacteria eat which allow them to make byproducts that help repair the Gut Wall, which heals Leaky Gut Syndrome and regulate Immune System response (autoimmune condition).
I also fill up my glass water bottle and add liquid chlorophyll and liquid zinc sulfate to sip on all day.
6.) LUBRICATE BEFORE LEAVING THE HOUSE. Don't get caught dry, scaly and bleeding. Stay in front of the plaques and scales with castor oil, lotion and mist. Here is what I do:
I apply my Topical Probiotics Mist after the shower, let it absorb and dry which happens quickly. It calms the skin, slows down the skin cycle and heals from the outside-in while the probiotics you take fix the gut inside-out.
Then I apply lotion as needed. I like a nontoxic lotion made by Puracy (https://amzn.to/2VOPJb5)
Do not use Vaseline or petroleum-based moisturizers.
This completes my 6-Step Daily Liquid Psoriasis Healing Routine!
---
Then, I start to graze on fruits for the workday. I start with an organic apple, then graze on other priority fruits for my calories during the day. I also drink a couple cups of coffee most days. I use raw, unfiltered wildflower honey or stevia to sweeten. My self-challenge is to drink my herbal tea first, then have an apple, then have coffee. I go somedays without coffee.
I keep a good amount of prebiotic fiber-rich foods in the daily diet to feed the probiotics. I graze on organic whole fruits during the workday. Our gut bacteri eat complex carbohydrates (fibers and sugars) that we cannot digest. So, they are passed down to the colon, where our bacteria and the probiotics work their magic. Click here to read the full list of prebiotic-rich foods in my probiotics article (towards the bottom).
We are not just eating for ourselves. We are eating for trillions of bacteria that reside in our gut and help keep our Immune System informed, trained and regulated. This must be restored to a happy and peaceful balance.
"We are eating for trillions of bacteria, not just ourselves."
---
Castor Oil Application and Bath Treatment
This is my approach to a healing bath. You can do a bath in morning or at night, after you do the castor oil application. Use castor oil as your primary topical ointment. I apply a good amount to my lower legs, wrap in plastic wrap, overnight, or about 4-6 hrs.
I then get into a warm bath of borax powder, coconut oil, probiotic liquid body wash and Mrs. Meyers nontoxic liquid soap. Gently remove the softened dead skin from the plaques. I then take a warmish-cool shower. I use the probiotics shampoo, let that sit in the scalp for 1-2 minutes. I also use RenPure coconut water shampoo and SheaMoisture African liquid black soap.
Stay well lubricated and cool before you fly out the door. This can be done after the shower as well. The probiotic mist interacts with the Gut Microbiota that is living in the skin. They are severely damaged due to the inflammation P drives in the skin. They need help.
"Healing Psoriasis from the inside-out and the outside-in."
---
The psoriasis that threatened my life, is now leaving slowly and surely with hard work. I have healthy, olive, soft skin shining through all over! VICTORY!
"I have been on my journey for seven years and I am better for it."
Lean on me, follow these steps and build your skills. You will make progress, I will be here for you every step of the way.
I hope this helps you as you build your NHP at home to get Psoriasis out of your life for good. Your morning is the most important part of your healing day. Even if you slip during the rest of your day, you are already victorious.
Much Love. Mad Respect. More Healing.
Matt
Fellow PHWarrior
We CAN heal. We WILL heal.