Hello Warriors!
Hope you had a nice halloween holiday in whichever traditions you celebrate. Here in Mexico, it is "Dia de Muertos" – Day of the Dead, where they honor their elders and ancestors. My illustrator, whom I do web design with, is Phillipino and he and his family visit the cemetery for a sacred gathering of tribute and celebration of those before them. I was fascinated by that, thinking back to my times in the States, where snatching candy all night in a half-assed costume turned into partying and drinking way too much in college, still wearing a half-assed costume. To each country their own way of celebrating I guess.
So! As I continue my trek of self-healing, I have some updates on the progress…
The Ups and Downs of the Die-Off Period of Healing Psoriasis
I knew this phase was coming, where symptoms will worsen, experience some fatigue, as my body battles all the microforms in my blood. As those microforms, pathogens, viruses, fungi, and other invaders start to starve and die, they release even more toxins into the blood. This is their attempt at grasping for life. I tend to think of the process this way, because I love to portray or reenact battles in history books in my mind. As I now am fueling my immune system and digestive system with the right foods (mostly), I feel like I am a positive leader on the front lines.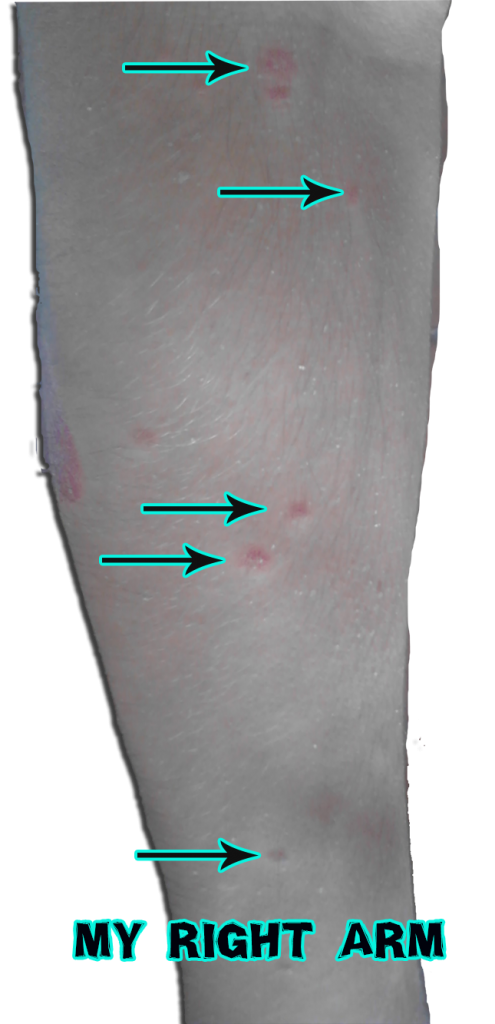 Anyways, Here is a photo of my right forearm, to show you an example of what I'm experiencing at the moment. I made some changes, using my schotty Photoshop skills so bear with me. I am seeing a bunch of little bumps appearing around some of the main lesions I've had for years now, on my arms. I point out these little spots that appear in bunches close to larger, older ones. This phenomenon is happening on my upper arms as well along with areas on my legs.
From what I have read about natural remedies for psoriasis in The pH Miracle & The Body Ecology Diet this is expected and totally normal. So, instead of feelings of dread or despair from new spots appearing, I am feeling exhilarated and more desire to increase what I am doing.
I am keeping a very close eye now on every spot on my body, mapping them like the stars, and every new abrasion that shows up or goes away, will be logged, any signs of healing at all I will write about on here. These small new spots on my arms are a sign of progress. Keep Fighting, Keep Healing
Juicing: As I prepare for my veggie juice fast that is coming up middle of this month, I am moving towards three juices per day. I will be writing a full informative post on my approach to juicing, my favorite recipes, and other useful information shortly. I am working towards a point where I do a green juice just after the Slippery Elm Tea in the mornings. I am THE WORST breakfast eater, have been ever since I was young. For the past few years, coffee has been my breakfast. I'm sure many can relate to something like that. I must have an Alkaline start to my day.
Coffee: I am still drinking coffee every day. I am using just a bit of Stevia as a sweetener, which is delicious. The key is moving away from the Joe every day, and savoring just 2-3 days per week, then 1-2 days etc… For now, I am offsetting the acidity of the coffee with green Superfood mixed in water along with my lemon water jug.
Cooking & Recipes: Slowly but surely, I am getting more creative with vegetable sautes and mixtures. I have delicious little snack preps comprised of hummus, olive oil, italion seasonings, herbamare a long with carrots, celery and cucumbers to dip.
Dinners are some what redundant at the moment. Mainly I saute or steam up zucchini with onion, broccoli and some cilantro or other greens to taste. I used a cold pressed extra virgin olive oil, which is yummy. My sister Kim, will be helping me in more creative ways to prepare vegetarian and vegan dishes! I am excited about that, as it will help me sustain the lifestyle. I also am still cooking to late on some nights. Very Important to stop eating at least 2-3 hours before sleeping.
I am pretty much past the starvation. When I get to being an excellent Alkaline breakfast eater, I will beat it completely. Avocados are your best friends to kick back the starving feeling that the microforms are transcending to you. They are pissed off that they are not getting sugar consistently any more. So they kick back senses and feelings of starvation.
Meat: I made it through the entire 1st month with out any red meat of any kind. This is a big part of the transition. My animal proteins were strictly fish, shrimp, a little bit of chicken and some eggs. I don't miss it much. I do miss grilling, that is my favorite way to cook. So I have to start grilling some veggies and fish, which will be just as tasty!
That about wraps up my thinking for this post. Be on the look out for my juicing post and as I continue to show more image examples of how my progress is coming along!
Stay Strong, Keep Healing. Don't Ever Deter From the Moment
"…One Man's Journey Is Another Man's Lesson – HiStory."