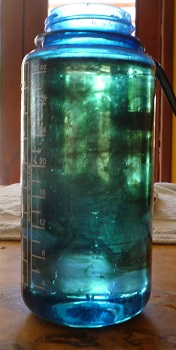 I wanted to post a quick update on how I drink my water each day! This is the #1 most important part of my Psoriasis diet plan!
I get the question a lot, and so here's how I drink myself healthy!
The first challenge for yourself, is your water source. Le Bleu is the best bottled water, but only available in Wal-Marts in certain parts of the USA. Evian is a fantastic bottled water available in many countries. Stay away from Fuji, Disani, Aquafina, Smart Water, Deerpark Springs, they are all crap and a waste of money.
Be sure plastic bottles are BPA-free bottles, also known as P.E.T. bottles.
If you are using tap water, at least filter it. I would also suggest getting your filtered tap water tested for chlorine, fluoride, heavy metals etc. This is VERY important as your healing practice depends on it!
For my first liter, first thing in the morning, right when I get up, I squeeze one whole lemon in, then shake it up, and drink it down as I do my daily Qigong stretches. I'll take three slurps, then do a stretch, then three more slurps and do the next stretch. I finish this liter in about 15-20 minutes.
Here's what to get:
————————-
Liquid Chlorophyll – http://amzn.to/2rlwLh2
Wild Greens powder – https://goo.gl/UbXrvN
Non-Toxic Cleaner for your water bottle, produce and household – http://amzn.to/2sDlxF4
Aloe Vera Leaf (optional, alternate with chlorophyll) – http://amzn.to/2rYrGvo
————————-
After that, I put one heaping scoop of wild greens powder in a cup of room temperature water than stir it up as I drink it down! You can put this in juice if you want.
Then, I do my second liter with 3-4 squirts of liquid chlorophyll. I'll drink this over a span of 2-3 hours into lunch time.
I then go for two more liters, one into the afternoon and night time and bedside, that I finish slowly when I first awake in bed. I also sometimes add a pinch of Celtic sea salt and stir until dissolved for trace minerals.
I store the chlorophyll in the fridge after opening.
So, in review, the first liter of pure water with one whole lemon. Then a liter with chlorophyll then a couple more liters over 24 hour periods. Three to Four liters total every 24 hours.
If I don't have any chlorophyll, I will do a quarter lemon slice in liters 2-4 over 24 hours along with my drops. That is totally fine to do!
Here are other things I use every day with my alkaline water:
Watch this video on how I prepare healing water daily:
Watch this video and try these Qigong breathing stretches:
Happy Healing!
Remember, you are NEVER alone in your journey to cure Psoriasis anymore, Never.
Just in case you need it again, here's a link to my Guide to Self-Healing Psoriasis…
https://www.psoriasisdiary.com/heal
I am here to support you, if you haven't already, join my Facebook group below to get into the conversation and talk with other like-minded Warriors who will help train you into becoming the person your body needs you to be.
Matt
A Warrior Who Is Curing Psoriasis Naturally & Helping Others Do The Same
—
DO YOU NEED ME TO MENTOR YOU? I CAN HELP YOU HEAL DEEP CAUSES:
http://phwarrior.com/
JOIN MY WARRIOR CLAN AND LEARN HOW TO BEAT PSORIASIS
https://www.facebook.com/groups/HealingPsoriasisWarriors/
SUBSCRIBE TO MY YOUTUBE JOURNEY AND GET REALLY HELPFUL TIPS
https://www.youtube.com/user/PsoriasisDiary
CONNECT WITH ME ON TWITTER FOR INSTANT QUICK UPDATES
https://twitter.com/matthewpludwig