It has been almost eight months since I have used my typical DermaSmoothe steroid oil and a generic corticosteroid cream on my entire forehead to the eyebrows, lining of my scalp, ears, nose and eyes. I used a combo of the oil and cream to keep the symptoms of my scalp and face Psoriasis at bay for about seven years.
Since I started my alkaline approach to healing my Psoriasis, I made a vow to stop using these to make sure results I would experience weren't tainted.
You can imagine what happened next. I always knew that using these topicals caused worse outbreaks when I would ever stop using them. This time around was no different. P rashed out over the forehead, eyes, nose, ears and scalp again. I would say it's on at least 50% of my face.
With my new lifestyle shift in the way I eat and approach each day, I definitely notice constant improvement of my face and scalp.
In fact, at this point, I would say my scalp Psoriasis (which after first using the suggested DermaSmoothe treatment in 2006 was 100% covered) is about 80% healed! I have barely any caked skin or even dandruff on my scalp! This is where Psoriasis started for me in 2004, so it's a special feeling to have progress here.
My face is slowly clearing along with the rest of my body. I can feel that this is mainly a filtration process. A liquid purification of my blood, which takes a lot of time. I do notice an awesome spectrum of healing setting in.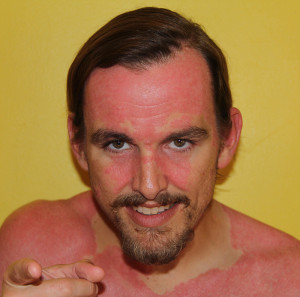 So guess what?!?
IN YOUR FACE PSORIASIS!
Every day I run a comb through my hair now, it's not a minefield of skin, rather smooth and healthy and that is real Progress.
So, as you transition your diet and add more and more effective natural remedies for Psoriasis, understand that your face will be an exhaust point during healing.
The areas around the eyes, nostrils, ears are all normal exit orifices for toxins. The release of a huge excess of toxins is what the body is going through. Swelling, puffiness and discomfort here are just signs that your healing Psoriasis naturally!
I stick with basic lotion, along with Cuticura ointment occasionally, nothing crazy. I don't like rubbing a lot of creams into my face. I use Aveeno soap and shaving cream, which is soft on the skin. I also get some sunlight on my face everyday, controlled exposure to Real sunlight is soothing and therapeutic for the face skin cells as they absorb the vitamin D and exfoliate in overdrive.
This is part of the growing pains of healing Psoriasis, so keep up the good fight! Remember, how long have you had Psoriasis? It takes a while of conviction to reverse it.
Leave a comment, ask me a question, tell me how you've been "facing" your healing journey…