I have been reading books written by Dr. Joel Wallach. I am very impressed with his career and work.
He started his career as a veterinarian and worked in many zoos and with wildlife across the country and abroad. He then went into comparative pathology. He has done thousands of autopsies on animals and humans, giving him an incredible insight to the anatomy of the body and how it works.
He made an incredible discovery while doing an autopsy on a rhesus monkey that had died of unknown causes. After examination he found the monkey had symptoms of Cystic Fibrosis. He later found that the monkey's diet was very deficient in Selenium, an essential trace nutrient. He developed a working application connecting Cystic Fibrosis to a Selenium deficiency.
Cystic Fibrosis is believed to be a human genetic disease. So, finding and confirming the illness in a monkey was unheard of and deemed impossible. He was defamed for his discovery, since it went against the common knowledge, and had to move on to being a Naturopath.
He has since treated and cured thousands of patients across the world by focusing on correcting deficiencies in what he has found to be the "90 Essential Nutrients":
60 minerals
16 vitamins
11 amino acids
3 essential fatty acids (Omegas 3, 6 and 9).
He has created a company called Youngevity, which is based on his core "90 For Life" products that provide the body the 90 essential nutrients from pure plant-derived sources daily.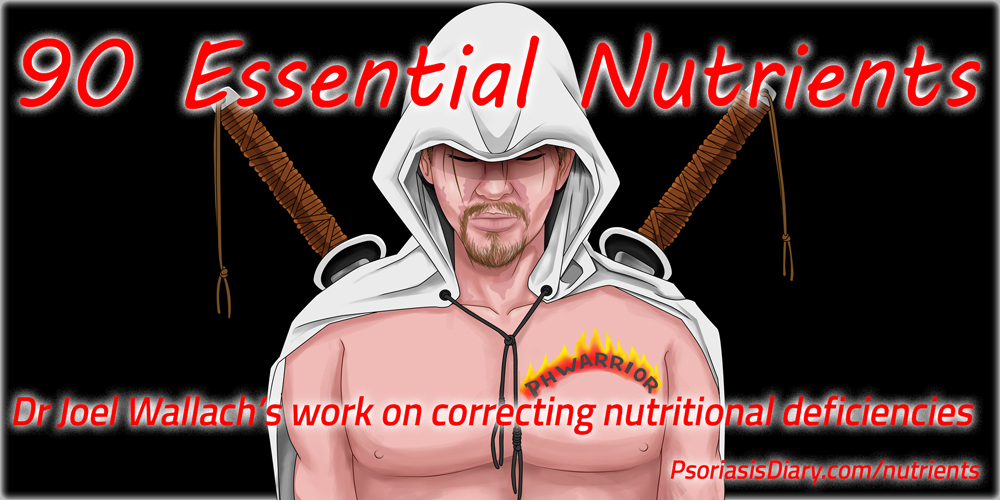 The body can easily recognize plant-derived nutrients which leads to a high level of absorption and that is a main fundamental aspect of getting healthy and healing Psoriasis, ABSORPTION.
"We are not what we eat, but what we absorb."
I have been using a specific set of Youngevity products for the past six weeks, with incredible results. It's not just my skin that is healing well, my entire body is. This is because now I'm delivering the proper raw materials it needs everyday to rebuild, regenerate and renew.
It's ok to rely solely on fruits and vegetables, but we do have to recognize the mineral deficiencies they have due to the depleted soils they grow in. Unless you are buying local from a farmer you know or doing your own garden, it's hard to know the soil sources plants grow in, even organic ones.
We are not prisoners to genetic disease. We are Stuarts to our own health by correcting gene expression through epigenetics.
We influence the way our body regenerates with what we fuel it with and how we live each moment.
After finishing his books and studying the product line, I have chosen these specific products for bringing in the 90 essential nutrients daily specific to healing Psoriasis. I'll explain why next to the link to each product. You can click the link to purchase the remedies yourself.
Multi-Nutrient complex – Provides the optimal blend of 16 vitamins, 11 amino acids, probiotics, prebiotics and important minerals and other nutrients needed to heal. Made from plants which is the best for absorption. It's better than taking tons of supplements that don't absorb well which makes it worth the price. I was spending $100s monthly on capsules to accomplish what this powder does. I put 1 scoop in my smoothie or mix in a blender cup with pure water daily.
a.) Plant Mineral & Herbal complex – Provides the 60 essential plant-derived minerals along with 16 crucial herbs the body uses as tools to rebuild tissue and cells while killing off pathogens and parasites. The body must have herbs and these plant-based minerals to do it's work and accomplish deep healing. I shake it really well and add 1 capful to my water bottle daily and sip them in over the day.
b.) Plant Mineral & Bone/Joint Complex – For those healing from Psoriatic Arthritis use this liquid instead. It provides the 60 essential plant-derived minerals along with extra plant-derived calcium, MSM, Glucosamine, Boron and other minerals to focus on rebuilding the joints and muscles. Shake well and add 1 to water bottle or smoothie. Store in fridge after opening. ALSO, Collagen is extremely important for rebuilding joint tissue.
Essential Fatty Acids from Evening Primrose Oil – Evening Primrose Oil I have come across many times as a strong healing aid for Psoriasis due to the EFAs it contains for cell regeneration and growth along with calming effects on the immune system. I take 1-2 every day, 1 in morning, 1 in evening with food.
Those 3 will deliver the 90 Essential nutrients in their most potent form and drive your natural healing practice each day. I do not use this as a substitute for juicing, but it is very easy to add them to a smoothie or just stir them up in pure water and take the capsules. Works great for a quick breakfast or lunch at the office.
I also use Muscadine grape seeds, which have lots of phytochemicals, antioxidants that reduce inflammation. They heal the cardiovascular system. They also remove free radicals from the body which reduces the risk of cancers. Here is what I find very beneficial, I think you will as well.
Muscadine Grape Seed Pea Protein Powder – Provides essential amino acids, enzymes, fiber, minerals, antioxidants and pea protein, fills me up all day and feeds the body healing balance. It's completely gluten-free with no whey which is inflammatory in the gut. Excellent for Warriors who are doing their workouts and want to keep healthy weight on as you drop a lot of unhealthy weight as part of following my healing guide. I add 1/2 scoop to my smoothie or mix in a blender cup with pure water.
Muscadine Grape Seeds – A wide set of phytochemical antioxidants that help reduce inflammation and heal the body. The most powerful anti-inflammatory I've ever used. Also promotes blood health and cancer prevention. There are a lot of clinical studies on pubmed.gov covering the wide-ranging benefits of muscadine grape seeds. I love using botanical nutraceuticals and that is all these are, the seeds of a fruit that grow organically. They have no taste, just crunchy. I empty 1 capsule into my smoothie or mix in a blender cup with pure water. I empty 1 capsule into guacamole, soup or on a cooked meal at night. I take 4-6 per day, 1-2 at a time in food or chew on them.
Finally, there's extra selenium, for those who need to focus on healing the Thyroid and removing cysts.
Selenium – As I mentioned earlier, Dr. Wallach's core work is based around Selenium deficiency, which is rampant in modern lifestyle among humans, especially women. So, he recommends also doing extra Selenium capsules. Selenium is very important for the glands of the body, particularly the thyroid. In any cases of Hashimoto's or Grave's, hyper and hypothyroid, thyroiditis, and thyroid cancer, a large amount of selenium is needed to repair and nurture the thyroid.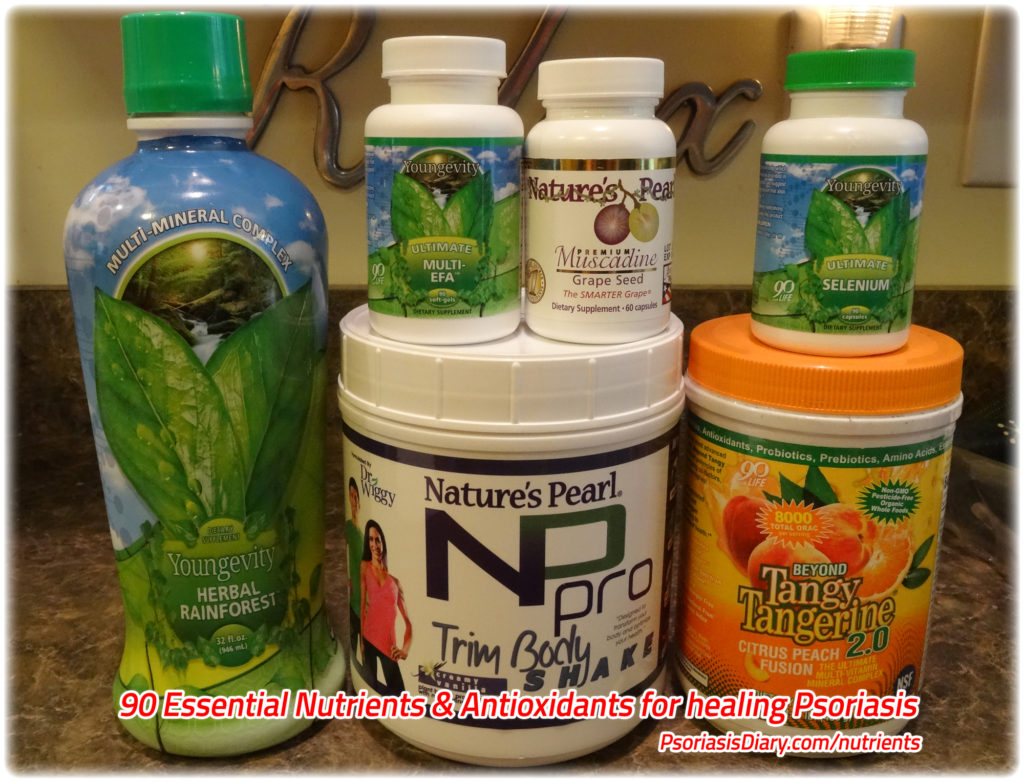 Here are the three books I have finished, written by Dr Wallach, each is fascinating and makes a LOT of sense to me:
Epigenetics: The Death of the Genetic Theory of Disease Transmission (click here to buy on Amazon)
Dead Doctors Don't Lie (click here to buy on Amazon)
Rare Earths: Forbidden Cures (click here to buy on Amazon)
Beyond this, I am focusing on alkaline water, juicing, herbs, a diet high in raw fruits and vegetables while avoiding gluten. Gluten is inflammatory in the gut, it feeds pathogens and blocks absorption of nutrients. This counteracts the hard work I do on bringing in nutrients the body needs.
I then avoid dairy, pork, white sugar, conventional red meat as much as possible.
It's what we ADD to heal that is much more important than what we SUBTRACT.
I am already seeing the benefits of adding these to my natural healing practice and I plan on taking them the rest of my life, long after Psoriasis is gone for good. My goal is full vitality, a shield and sword that will keep me strong and smart.
For any questions, shoot me an email through my contact form or at matt(at)psoriasisdiary.com. If you like, we can schedule a phone call and I'll work with you on a plan as you purchase these and other herbs to get you on the fast track to healing Psoriasis for good!